| | |
| --- | --- |
| Posted on August 4, 2010 at 1:53 PM | |
I've made Elderberry wine twice.  Once 30-odd years ago and last year.  I didn't like it either time!  Some say it takes several years to mature, and then it's actually quite nice.  I have a lot of elderberries.  I'll probably make it again, since we probably have more elderberries planted than anyone else in Montana!
But an alternative is elderflower wine, an old english favorite.  My readings tell me that people either find it disgusting or they really like it.  I hope the latter proves true.  It's made mostly with the flowers of the Sambucus species, with a little sugar, water and acid of some kind to give it some bite.

I put together a one-gallon batch last week, strained out the flowers this morning and put it in a gallon jug to finish fermenting.  Will it be worth drinking?  We'll find out in about a month. Flowers are beautiful and in blossom now!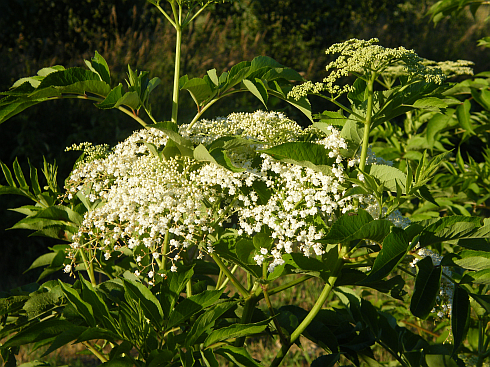 Categories: IN THE WINERY